Weddings in the months of June through August pretty much have the same thing in common...the hot weather! There are many beautiful outdoor weddings this summer and fabulous outdoor summer weddings being planned for next year. As you plan your outdoor wedding, here are a few elements that can be added to help keep your guests cool as they celebrate this wonderful day with you. These summery and cool treats would be great for the ceremony and/or the reception.
Paper parasols are a great way to give the guests an opportunity to hide from the sun's heat. If you do choose this option, get with your planner to decide the best seating arrangements so that your guests will not have to fight for a good view of you at the altar.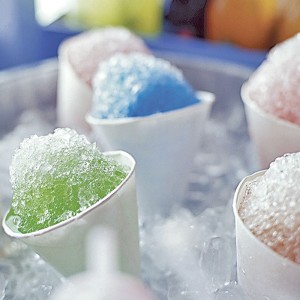 Colorful snow cones are a summer favorite. And, I think this nostalgic treat would be one of the many memories created at your wedding.
Personalized fan programs can serve double duty when trying to fight off the heat waves and also keep your guests informed about the ceremony's happenings.
Ice cream cones or cups will sure give them the cool sensation. I'm sure they would look great in your wedding colors.
Glasses of yummy and sweet lemonade will sure keep them pleased. It would for me!
Homemade or gourmet popsicles before or after the ceremony would add that cool element of surprise.
Chilled personalized bottled waters would be just the right thing to keep your family and friends hydrated.
Tish B.